Giantz AGM Deep Cycle Battery 12V 75Ah Marine Sealed Power Portable Box Solar

$168.94 incl. GST
+ Free Shipping*
20 in stock
Description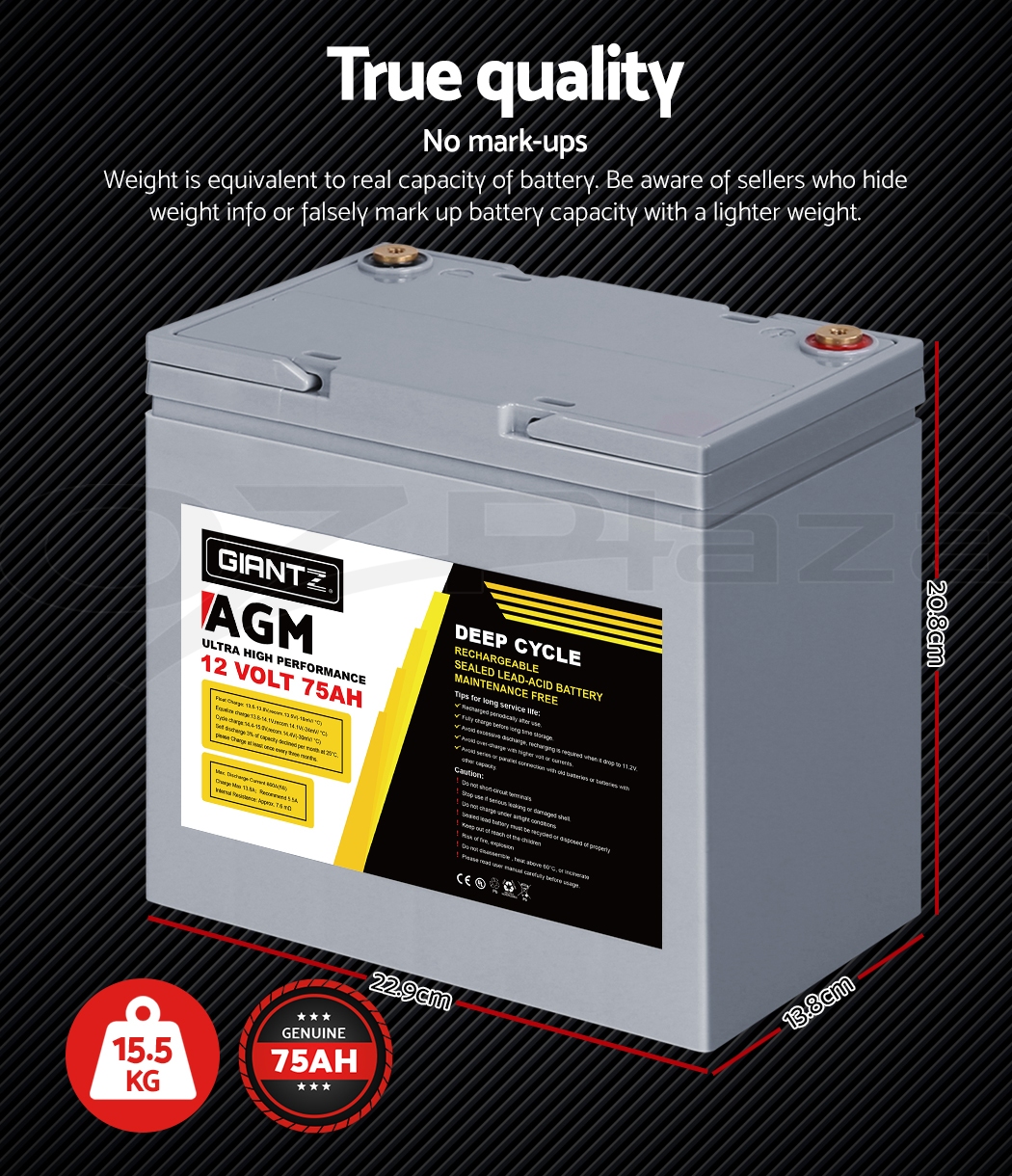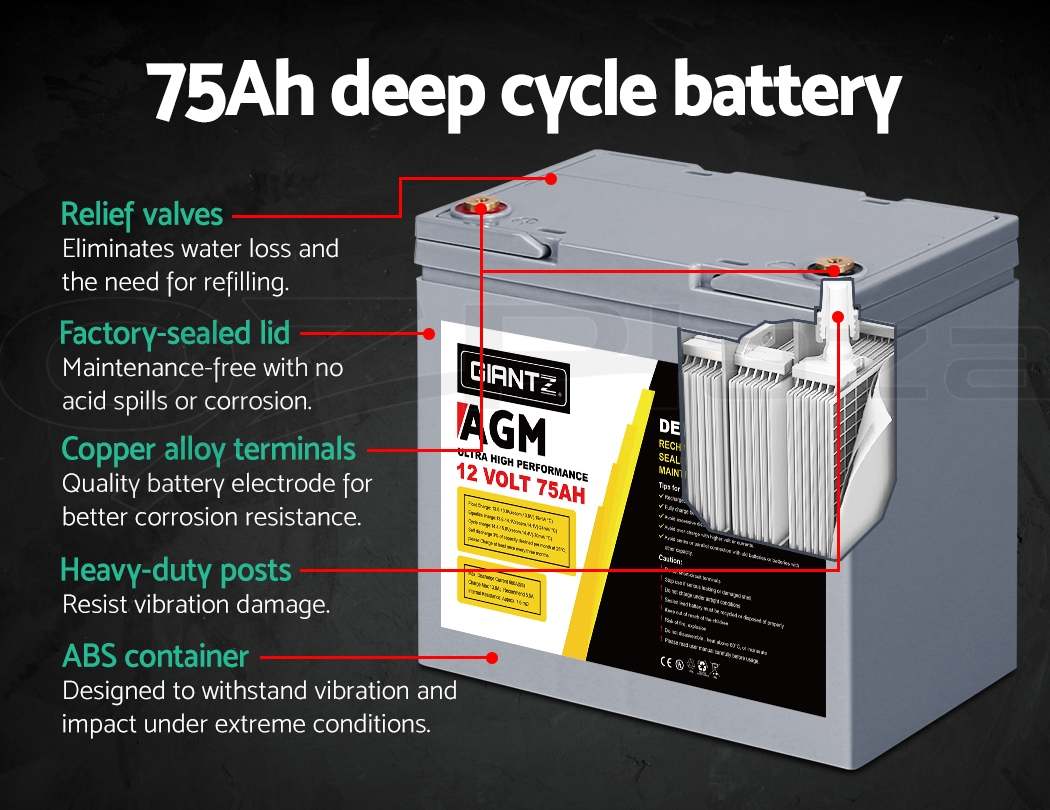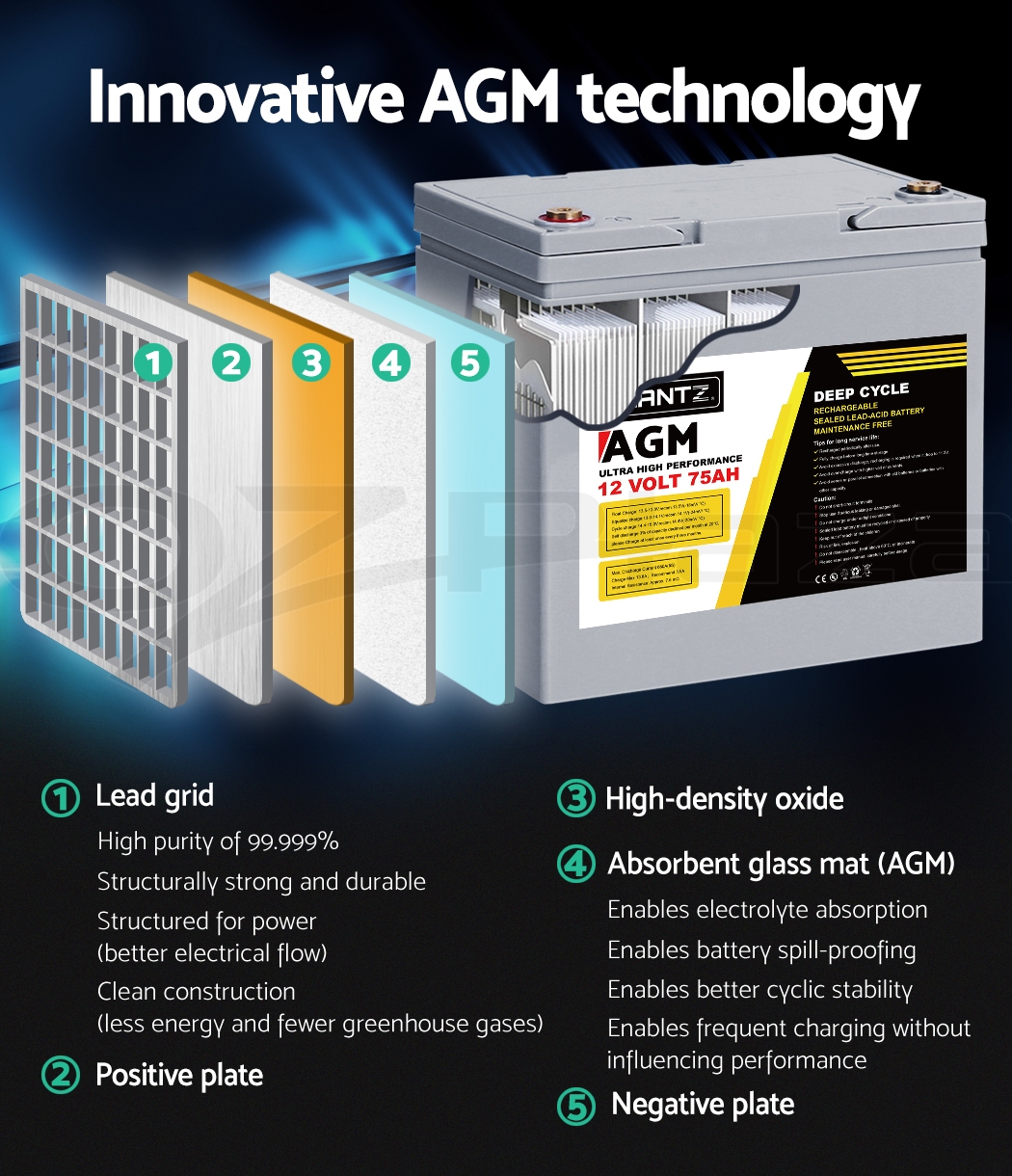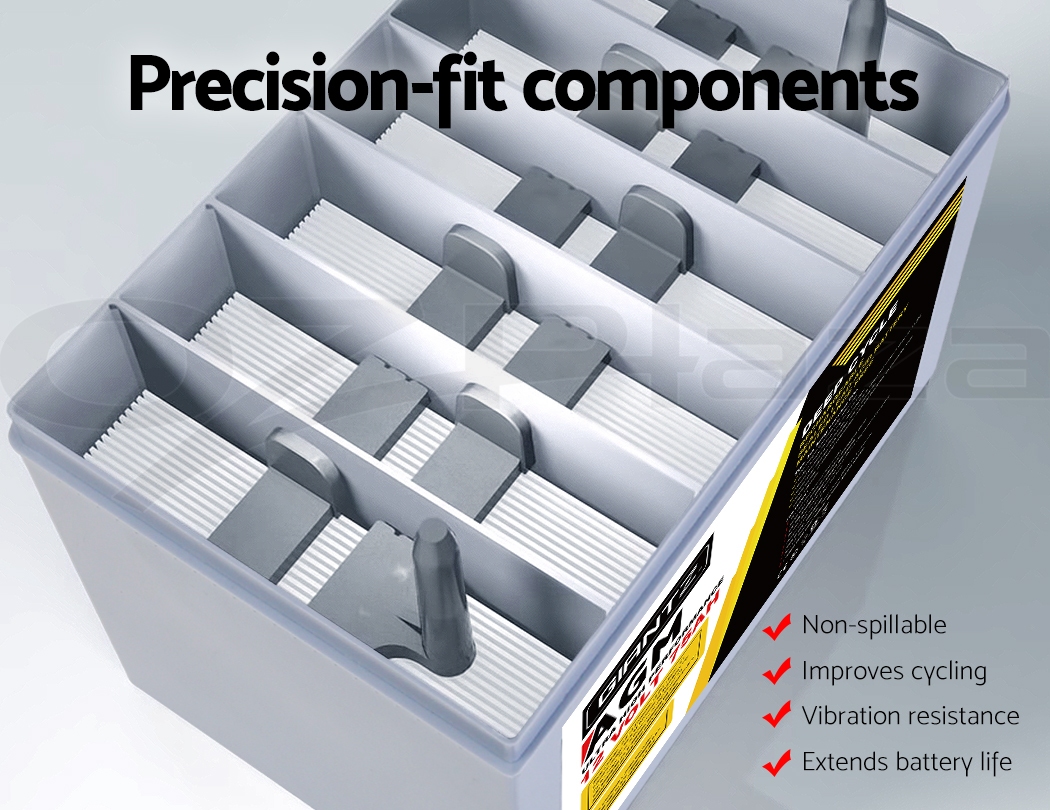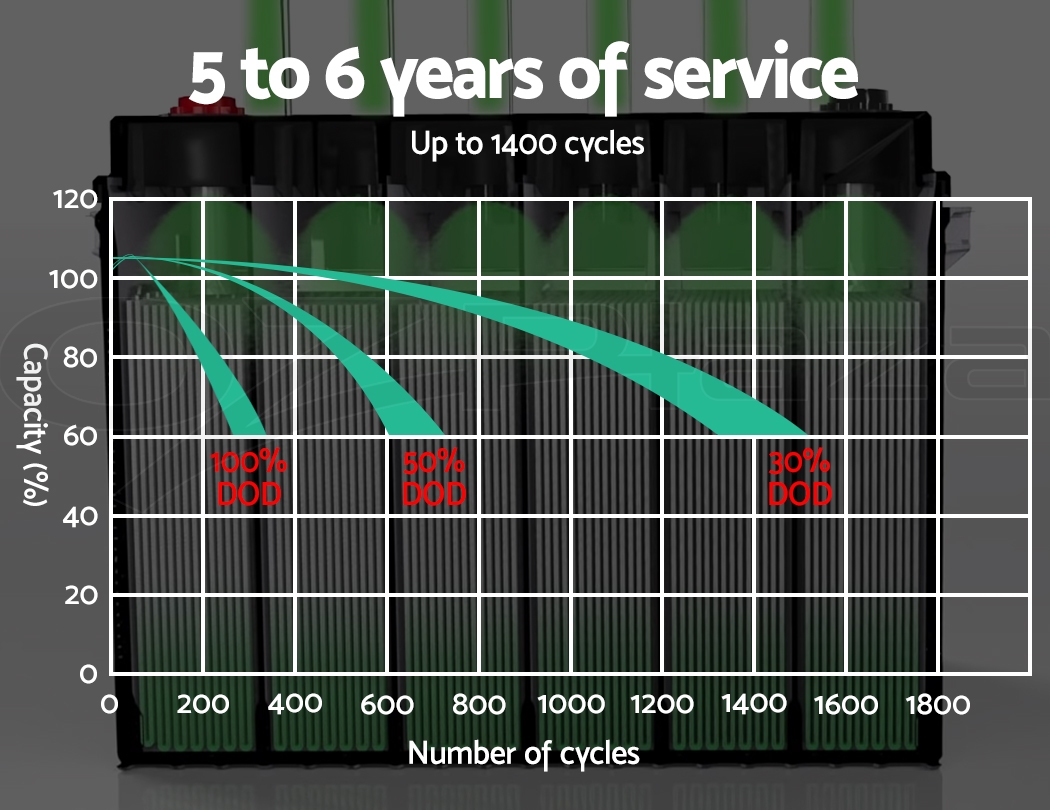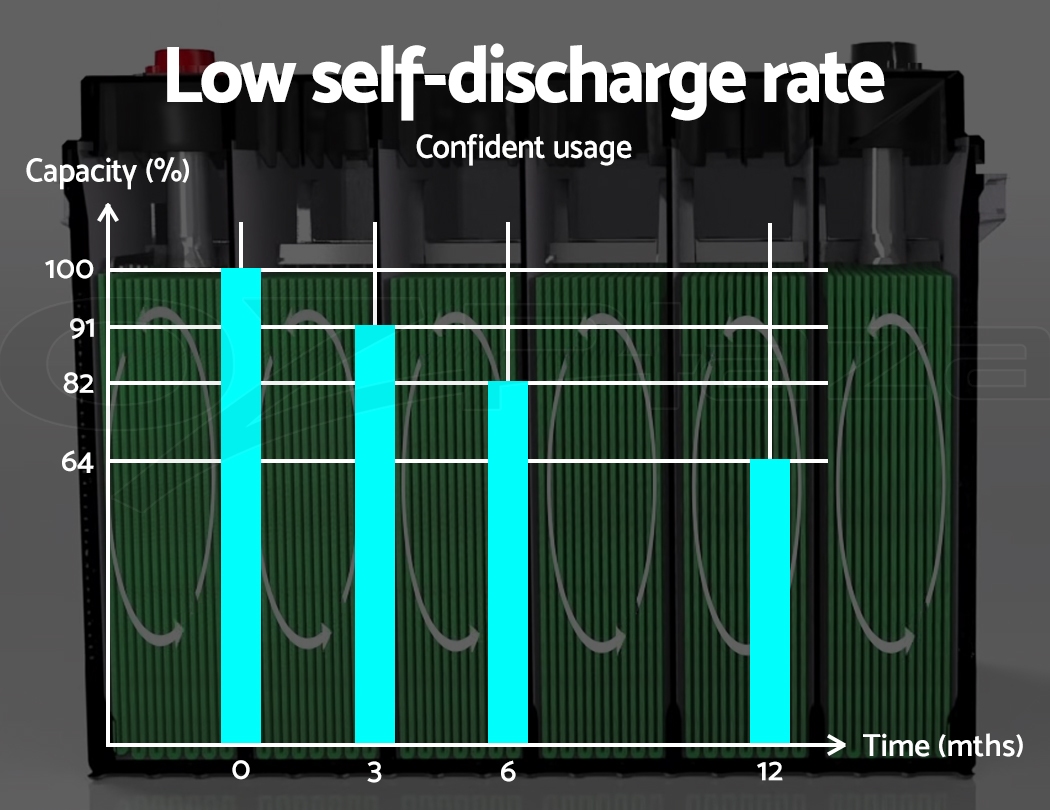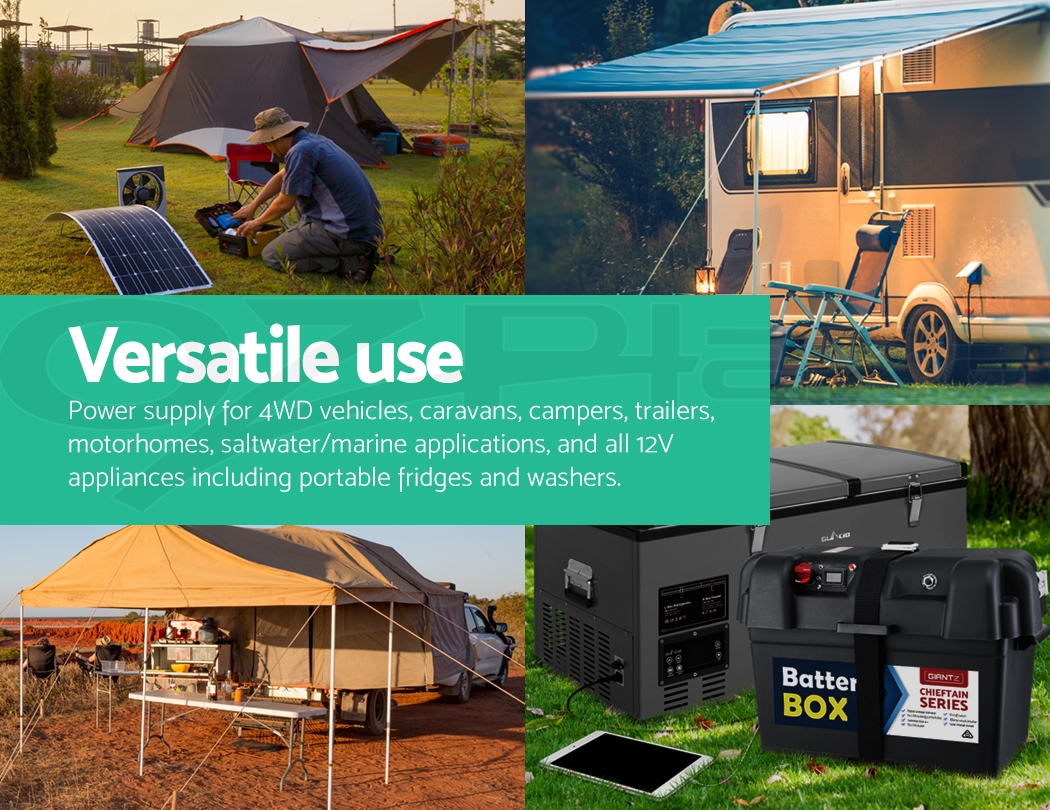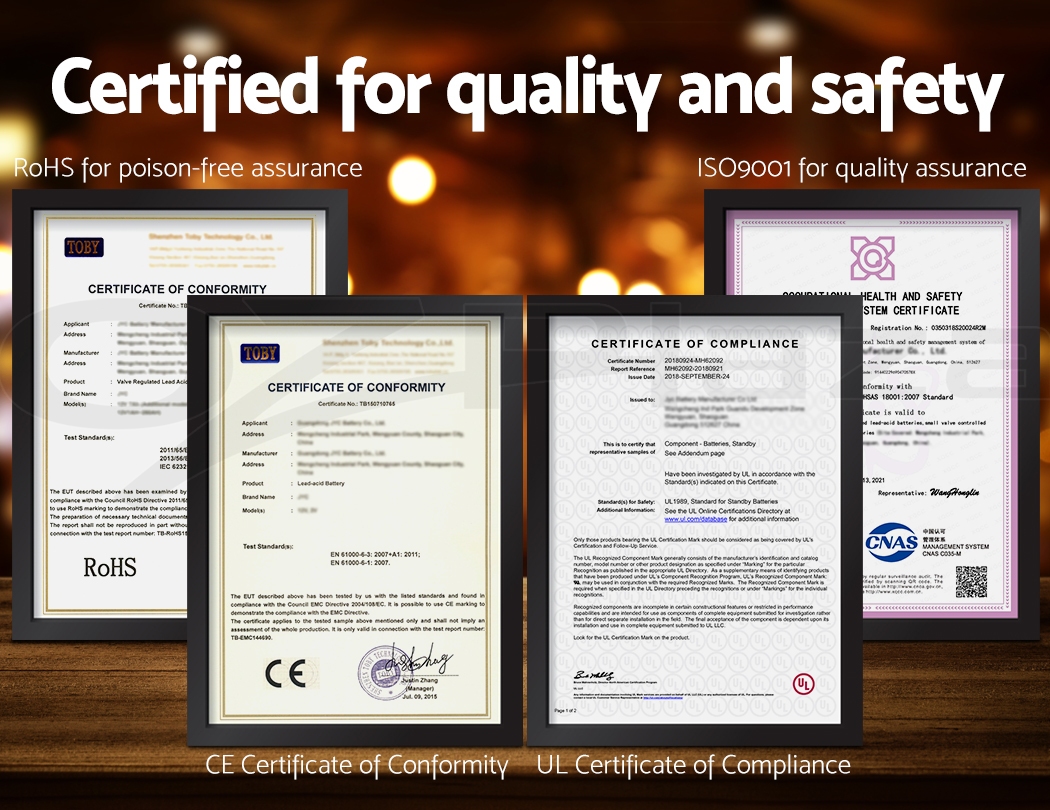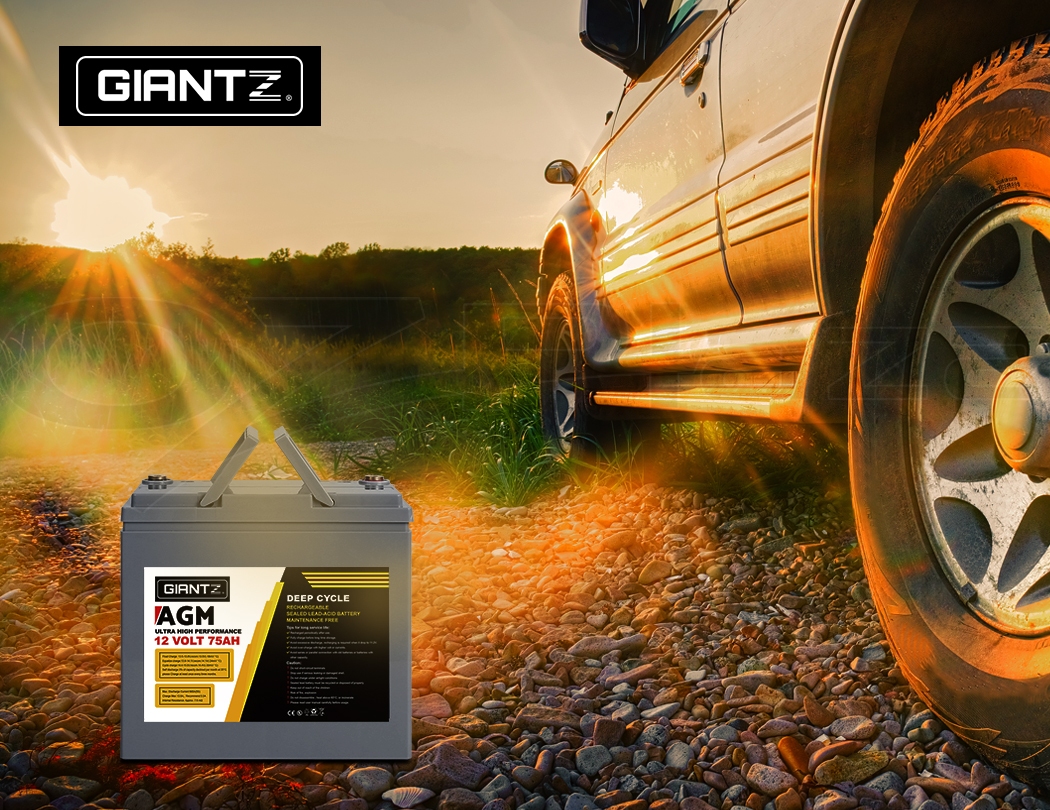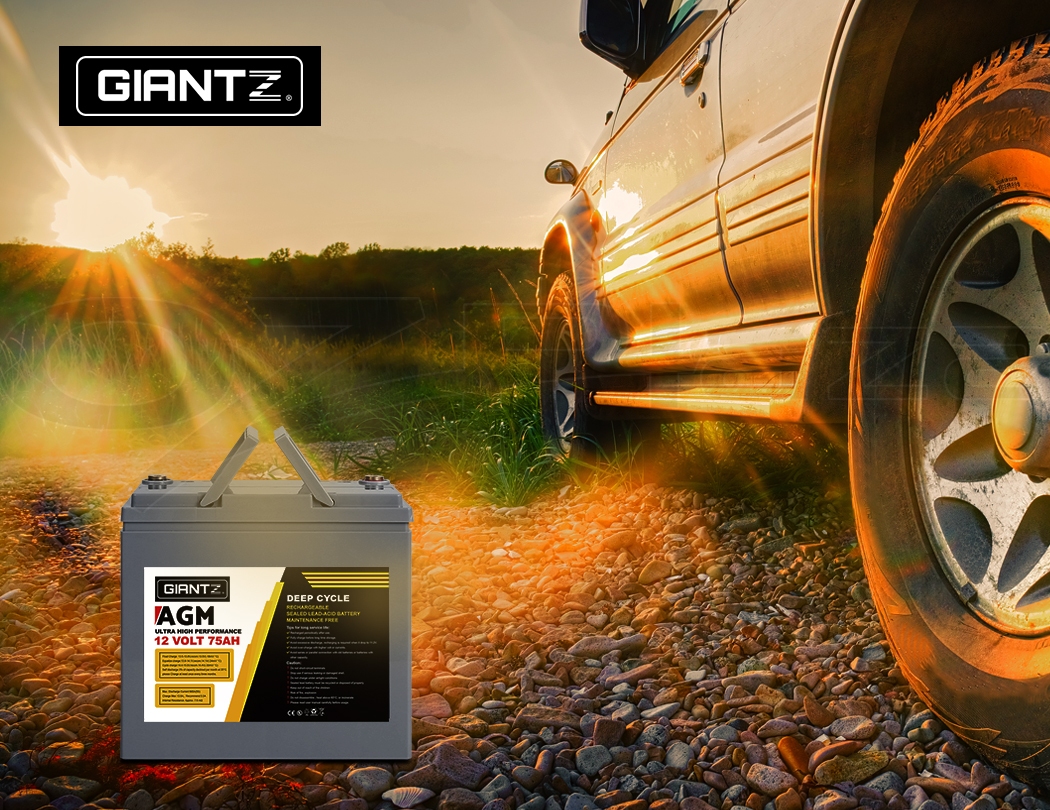 Description
Our portable GIANTZ Deep Cycle Battery provides off-the-grid power supply for 4WD vehicles, caravans, campers, trailers, motorhomes, saltwater/marine applications, and all 12V appliances including portable fridges and washers. The 75Ah 12V battery features an incredible cycle life of up to 1400 cycles, making it one of the most enduring in its class. What you get is a longer, consistent and more drawn out charge all the time. And with its advanced AGM technology, the battery enables better electrolyte absorption, cyclic stability and frequent charging without affecting performance. The bolt down terminals also allows for more reliable experience, and not least, the high oxygen-recombination efficiency results in superior deep discharge recovery. The maintenance-free deep cycle battery is completely sealed, spill-proof and does not leak gas for added safety and durable use.
Note:
1. Please charge the battery on receiving it even if the battery will not be used in the near future.
2. Maintenance-free means the terminals need not be refilled. However, the battery must be recharged periodically after use.
3. It is advised to charge the battery every 3 months if not in use for long periods. This is to prevent over-discharging of the battery which will cause irreparable damage to it.
4. AGM deep cycle batteries have a much longer cycle life if they are exhausted to a small degree and then recharged, rather than draining all their power and recharging all the away.
* Battery can only be use upright
Features
Deep cycle battery
Greater cycle life
Max. cycle life of 1400 cycles
Industry leading build life
Higher sulfation resistance
Longer storage life
Maintenance-free
Superior deep discharge recovery
Better low temperature performance
High oxygen-recombination efficiency
Advanced AGM technology
Spill-proof, leak-proof and non-gassing
Bolt-down terminals
Convenient carry handle
Specifications
Overall dimensions: 23cm x 13.8cm x 21cm
Approx. weight: 15.5kg
Container material: ABS
Terminals: bolt-down
Nominal voltage: 12V
Rated capacity (10-hour rate): 75Ah
Maximum cycle lIfe: 1400 cycles (@30% DOD)
Minimum build life: 7 Years
Internal resistance: Approx. 7.6mΩ
Maximum discharge current: 660A (5s)
Maximum charge current: 13.8A
Operating temperature ranges:
Discharge: -15°C to 50°C
Charge: -20°C to 50°C
Storage: -20°C to 50°C
Capacity affected by temperature: 40°C = 102% | 25°C = 100% | 0°C = 85% | -15°C = 65%
Float charge: 13.5 to 13.8V
Equalise charge: 13.8 to 14.1V
Cycle charge: 14.4 to 15.0V
Self-discharge 3% of capacity declined per month at 25℃
Assembly Required: No
Number of Packages: 1
Package Content
| | |
| --- | --- |
| Item Description: | Quantity: |
| Giantz Deep Cycle Battery | x 1 |
| User instruction x 1 | |
Payment
Bank transfer and all major credit cards through Paypal.
Warranty
For your peace of mind, this product comes with a 1-year warranty. We value our customers and wish to make your purchase experience as enjoyable as possible. If something goes wrong with your product, please do not hesitate to contact us for assistance. Please CLICK HERE for full terms and conditions that outline your warranty rights.
Returns
We accept returns. Please contact our customer service team immediately if:
• You changed your mind and wish to request a return
• Your product was damaged during transit
• You wish to make a warranty claim for any product you have purchase
• You are not satisfied with any product that you have purchased.
Please note that you must comply with all returns instructions provided to you via your registered email address. All returns must be directed through Customer Service. Please do not return or post items before obtaining instructions from us. If you do, there is a risk that your returned item may not be identifiable and accepted. Applicable freight fees will be deducted from your refund in cases where you changed your mind about your purchase and wish to return the product. This also applies to orders cancelled while in transit.
Shipping
All items are dispatched from our warehouse in Melbourne, Australia.
Under normal conditions, delivery will take between 3 and 8 working days after dispatch, depending on your location. Remote areas will required longer delivery time. If you are given a tracking number, please use it to track the delivery status of your order.
We regret that our warehouse is not accessible to the public. As such, we do not offer a pick-up option.
Please pay attention to shipping exclusions and enter the postcode of your delivery address in the 'Postage and Payments' section of the listing. Applicable postage and handling fees will be displayed.
We work with different courier partners to provide reasonable freight costs and quality service. The type of courier used is dependent upon size and weight of each item and the delivery location.
Postage and handling fees are calculated based on the weight and size of each product. Hence discounts on freight costs are not available.
Combined postage for different products is not available as size and weight limitations generally prevent items from being dispatched in one consignment.
Some products may be dispatched in more than one carton.
We currently dispatch only to addresses within Australia.
We aim to dispatch all products within one working day after your full payment is made. If you need to cancel a purchase after the product has been dispatched, please note that the postage fee may not be refundable. Additional postage fees may apply for re-delivery or re-direction requests.
If you change your mind about your purchase and wish to return the item after receiving it, please note that applicable freight fees will be deducted from your refund and a 10% re-stocking fee will apply.
Buyers must agree with the above postage and handling terms before purchase.

Additional information
| | |
| --- | --- |
| Brand | Giantz |
| Type | Deep Cycle |
| Voltage | 12V |
| Manufacturer Part Number | Does not apply |
| Colour | Grey |
| Assembly Required | No |
| Warranty Yrs | 1 |
| UPC | 9355720063790 |
| EAN | 9355720063790 |
| MPN | Does not apply |
Only logged in customers who have purchased this product may leave a review.
Related products
Qi Wireless Charger Station Charging Dock Stand Apple Phone Watch Airpod 3 In 1

$39.23 incl. GST
+ Free Shipping*

Gardeon Large Wooden Wagon Wheel Rustic Outdoor Indoor Ornaments Garden Decor


$39.23 incl. GST
+ Free Shipping*

Portable Ice Maker Commercial Machine Ice Cube 2L Bar Countertop Black


$194.94 incl. GST
+ Free Shipping*

Electric Wall Mounted Panel Heater 2000W LED Swing Timer Remote Control | Products On Sale Australia | Free Shipping


$123.44 incl. GST
+ Free Shipping*
Subscribe to our newsletter and get 10% Off!
Velit morbi sed non est dolor tellus fringilla diam